Fast drives save lives
"Fast drives save lives" declares Dane Brehm, Production Technologist for Cintegral. At first, that might sound like a wild claim, but with film industry professionals pulling longer and longer days, it's no exaggeration. When you're offloading multiple cards of Arri RAW, REDCODE RAW or Sony Venice footage, storage speed makes all the difference between a 12-hour and a 14-hour day.
Brehm goes in-depth into the cutting-edge OWC technology that powers their DIT cart workflows. He demonstrates that there's more to a solid workflow than just the specs on the side of a hard drive box at Best Buy. A robust offloading workflow factors in thermals, bandwidth, formats redundancy, hardware connections, and software. The resulting workflow is one that provides confidence and speed throughout a production day and meets the demands of the world's top teams.
What is a production technologist and role of the DIT
Dane describes a "production technologist" as someone who coordinates the on-set technology and works with the crew to incorporate it into their workflow. When the concerns about the reliability of technology can fade into the background, artists are free to create.
Brehm's role as a DIT (Digital Imaging Technician) provides a critical function on set. When the camera cards have filled up, that data needs to be offloaded. At first blush, this sounds simple enough. But the pace and conditions on set can make it much more difficult than you'd first think.
Dane outlines the process of offloading footage into a workflow that produces three copies of the footage. Additionally, that footage goes through a verification process as it is coming off the card known as checksum. This way there is verification that no data corruption occurred in the copying process.
The drives are also encrypted for security. Camera cards are expensive and can sometimes be limited on set. So footage has to be dumped as quickly as possible and duplicates created. Those drives need to be protected against mechanical failure as well. All of this has to be verified before the camera department can be confident that it is clear to reuse those cards.
Additionally, footage may need to be shared on set for a first light color grade, or quickly sent off with a courier for delivery to the lab. In other words, the DIT is under constant pressure to execute their job perfectly to ensure that the production's investment is protected.
Cutting-edge workflows from OWC
The new OWC Thunderbay Flex 8 provides the perfect storage unit for the cornerstone of the Cintegral DIT cart. Sporting Thunderbolt 3 connectivity, the Thunderbay offers additional ports for reading cards or connecting peripherals such as camera card readers. This is great if you are using a Macbook Pro with only Thunderbolt 3 jacks.
Ingeniously, it also incorporates PCI slots for incredible connectivity. The storage unit features 8 bays for hard drives or SSDs. These drives can be configured into RAID arrays allowing for redundancy in the case of a drive failure.
Dane also employs a bleeding-edge solution for the initial transfer of footage. U.2 drives offer a mind-numbing 8,000 MB/s transfer speeds. OWC combines U.2 cards with the OWC Mercury Helios 3S. This setup is what allows for multiple terabytes of raw footage to be copied at the full speed of the card readers. The U.2 drives rest in a shuttle that can easily be removed and inserted into another Mercury Helios back at the post-production facility.
The speed of NVMe and U.2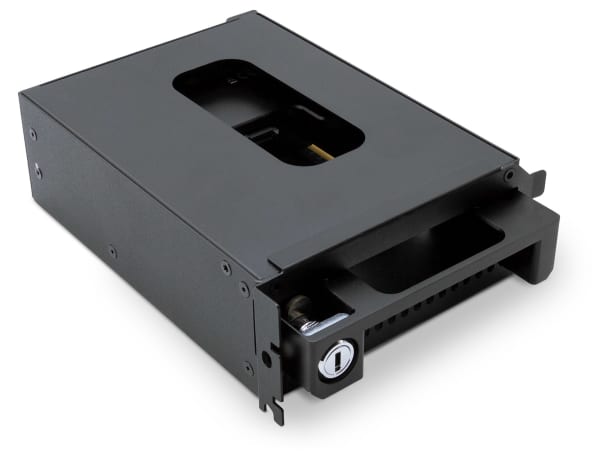 Many readers may not be familiar with U.2 drives. They've been fixtures in data centers for a while, providing speedy cache drives to servers. But they are new to film crews. OWC set out to design a bulletproof system to streamline the work of the DIT in the most demanding situations.
You might be familiar with NVMe drives on M.2 cards that appear in laptops and portable media. U.2 uses NVMe, but it bypasses the need for the M.2 interface and connects to the PCIe 3.1 lane via the pass-through on the interchange insert. This results in blazing-fast transfer speeds. Then you just add the U.2 shuttle drive with the capacity that you require. This allows Dane to make backup copies of the data to his Thunderbay flex 8 or additional U.2 shuttles for delivery to the lab.
Thermal performance
One thing that Dane is mindful of is thermal performance. As data is copied over to a drive, the drive gets hotter. Eventually, that drive may begin to throttle the performance speed because it could get damaged if it gets too hot.
The OWC drives that he uses are able to dissipate heat even in outdoor shoots in extreme temperatures. The outcome is a shoot that keeps running smooth and producers that can have confidence that their precious footage is secure.
Thermal performance just isn't something that you often think about when you grab the cheapest drive off the shelf; but it makes a real-world difference when you're trying to keep things moving in harsh environments.
That's a wrap
The end result of all this technology is the opportunity to wrap the day in a timely manner with peace of mind. Fast, redundant, robust drives allow production technologists, DITs, and on-set colorists to finish the process of offloading quickly.
Producers can sleep well knowing that their footage has been copied with integrity and preserved against both human and mechanical error. Studios can be confident that drives are encrypted from prying eyes. DPs are happy that first light grades have been applied before people judge the footage. Editors and their assistants receive footage on fast drives that can be docked with ease and offloaded quickly to their shared storage systems.
Ultimately,` it's the peace-of-mind that is the real value that a production technologist brings to a show. By harmonizing the needs of the artists and craftspeople with the advantages of technology, Dane is able to free artists to create. And that really is the vision behind the technical innovations from OWC too.
---
Related posts: