The announcement of the new M1Pro and M1Max Apple computers have raised some confusion around the already slightly confusing difference between Thunderbolt 3 vs Thunderbolt 4. So we thought it would be a good idea to clear up some of that confusion.
There are two main issues that have come up.
#1. Why were M1 Macs not designated as Thunderbolt 4 compatible?
While the M1 models are limited to a single external display via Thunderbolt, the new M1Pro and M1Max based models now support two displays over Thunderbolt. As we have talked about, Thunderbolt 4 is more a standards enforcement as opposed to being a change to speeds that we already had with even Thunderbolt 3 Intel Macs since 2016. Since the M1 Apple models could only support one display via their Thunderbolt connections, Apple was not allowed to use the Thunderbolt 4 naming.
#2. It's been a year, why don't we have more Thunderbolt 4 peripherals other than docks and hubs?
While Thunderbolt 4 enforces requirement standards for the host/computer offering these ports, this is still technically the same 40Gb/s Thunderbolt 3 USB-C capability we're all familiar with. The only new chipsets to date are those that have enabled us to provide the very first Hubs and Docks that provide extra Thunderbolt ports.
Existing Thunderbolt chipsets (and no need to call them Thunderbolt 3) are the best solution for products like our Thunderblade, Envoy Pro SX, Envoy Pro FX, Thunderbays, etc. In fact, solutions like that can not be built with so-named Thunderbolt 4 chipsets today as that's not what those chipsets are designed to be used for.
The only thing a Thunderbolt 4 peripheral can do that wasn't on prior Thunderbolt 3 named chipsets is add more Thunderbolt 3/4 Type-C ports. Prior chipsets can only provide a daisy-chain port. But otherwise, prior chipsets are designed for the highest performance to storage, PCIe slots, etc.
One cable to rule them all!
And don't forget the fantastic Thunderbolt 4 cables! Our Thunderbolt 4 cables—ranging from 0.7 to 2 meters in length—are all 100% universal for all USB-C to C uses, as well as USB4. No matter if connecting a USB-C device or a Thunderbolt device—you always have the maximum of up to 40Gb/s of data possible and certified power up to 100 Watts. (Note: the data rate and power delivery are based on what is connected. If you have a Thunderbolt 3/USC-C drive connected to a USB 2.0 port via an adapter, you will only get USB 2.0 speeds of 480 Mb/s.)
Thunderbolt 4 is one cable that works for everything today and yesterday, period.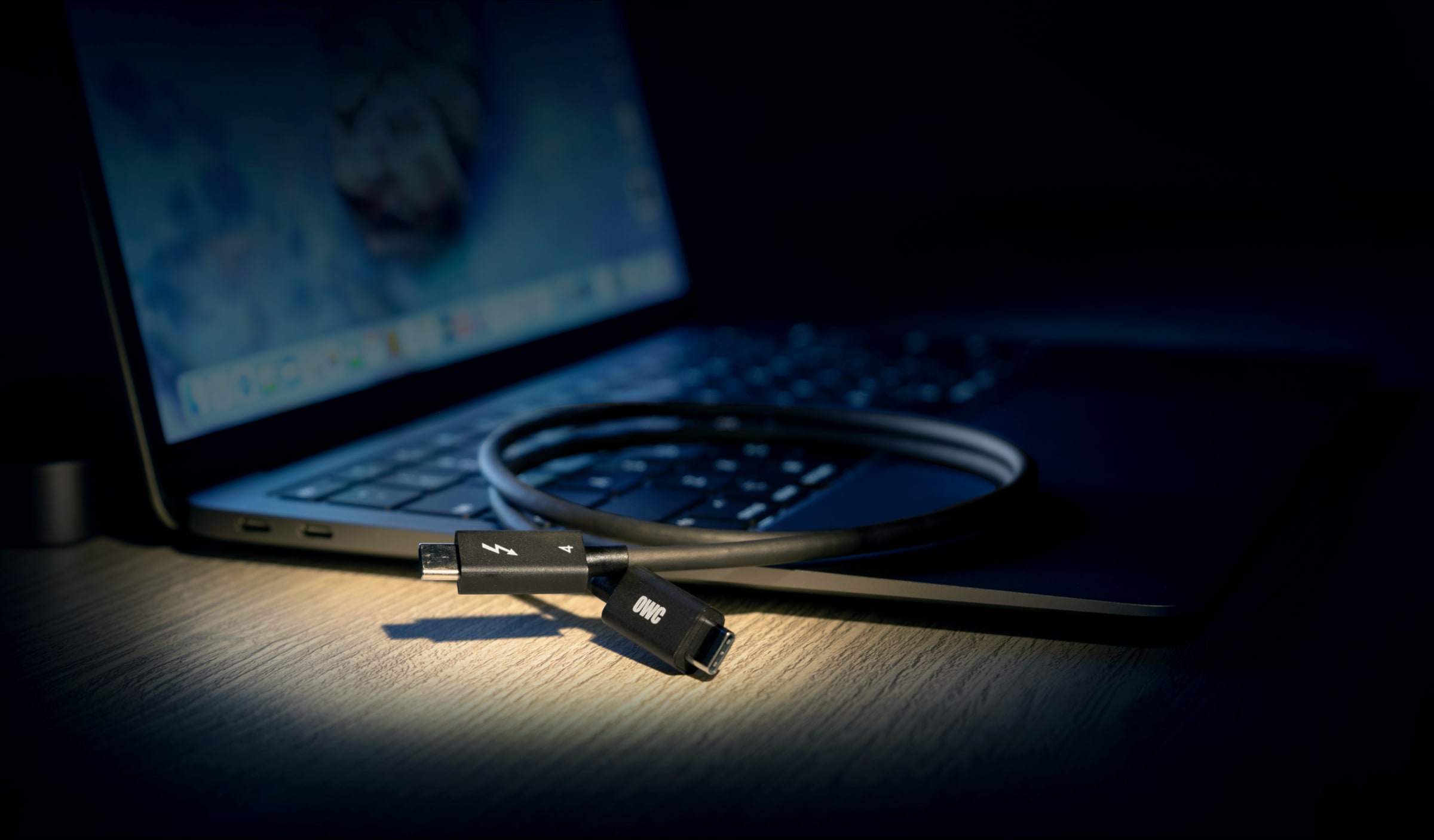 The final word on Thunderbolt 4
Understandably, we get comments about Thunderbolt 4 devices all the time. Just remember that Thunderbolt 3 and Thunderbolt 4 are both the same 40Gb/s standard. The primary difference has been that these speeds only recently came to the PC with Thunderbolt 4 in 2020. Mac users have been sort of spoiled since they've had these speeds with Thunderbolt 3 going all the way back to 2016.
Bottomline: if you're on a Mac, whether you have an M1 (Thunderbolt 3 compliant) or an M1 Pro or Max (Thunderbolt 4 compliant since they now support more than one monitor), speed does not change.
Related: