OWC Accelsior 4M2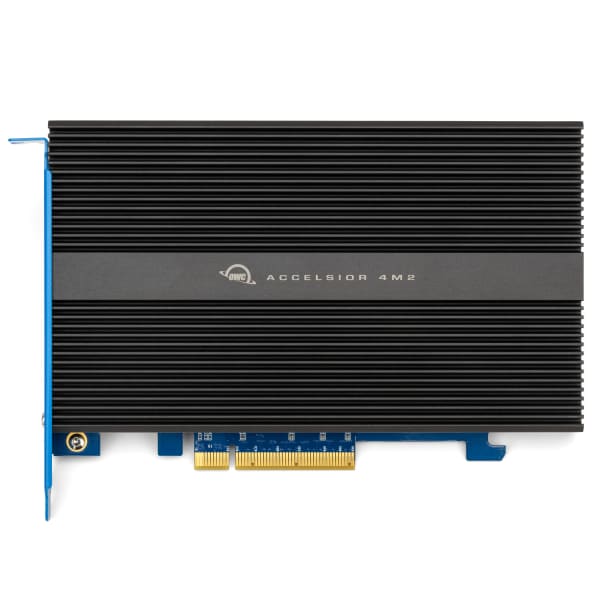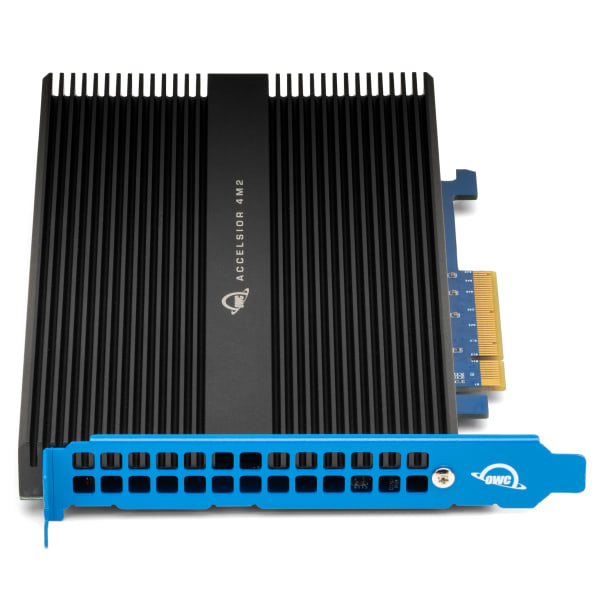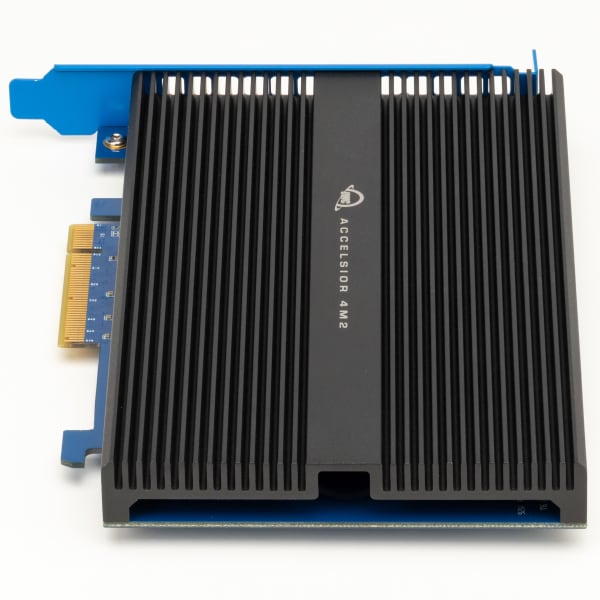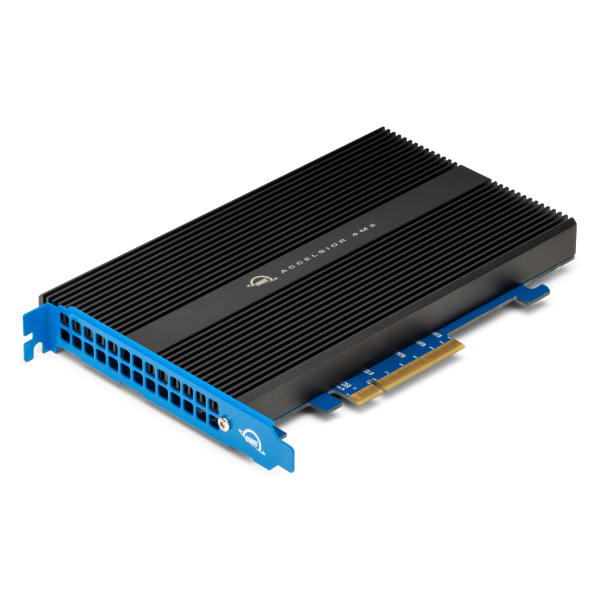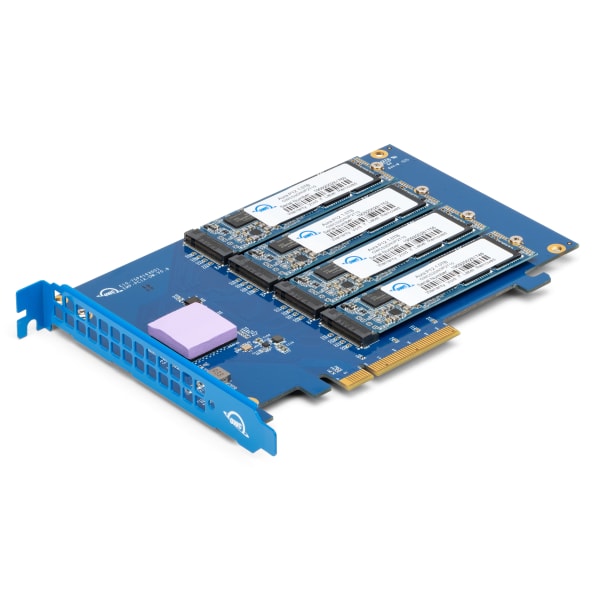 OWC Accelsior 4M2
---
Over

6,000

MB/s
Blistering fast speeds
Up to

32

TB
Room for large format files
Quick Specs:
Includes SoftRAID
Plug and play
PCIe 3.0 x8
(4) M.2 NVMe SSDs
Mac & PC
High-Performance PCIe M.2 NVMe SSD Solution
Work Faster: over 6,000MB/s real world speed in RAID 01
Supercharges Mac and PC: ideal for Mac Pro (2019 - Current), Mac Pro (2010 - 2012), and PC towers
Highly Versatile: installs into a full-height, half-length x8 or x16 PCIe 3.0 or 2.0 slot2
Slot-Powered: no extra power cables needed
Includes SoftRAID: robust software for creating, monitoring, and managing advanced RAID sets
---
PCIe SSD Solutions
With SoftRAID XT — RAID 0, 1, 4, 5 and 1+0 (10), JBOD
PCIe Expansion Card
With SoftRAID XT — Add your own M.2 SSDs.

Work Faster Than Ever
Accelsior 4M2 NVMe SSD is one of OWC's fastest SSDs, with over 6,000MB/s speed for large format video editing, VR/AR/MR environments, extreme gaming, and other high bandwidth needs. Available in capacities up to 32TB, Accelsior 4M2 raises the performance bar for Mac Pro (2019 - Current), Mac Pro (2010 - 2012), and PC towers.
It offers silent cooling via a finned heat sink cover and installation versatility with a half-length x8/x16 design. If a Mac/PC doesn't have an open or compatible PCIe slot but is Thunderbolt 3-equipped, Accelsior 4M2 can be used externally in the OWC Mercury Helios 3S.3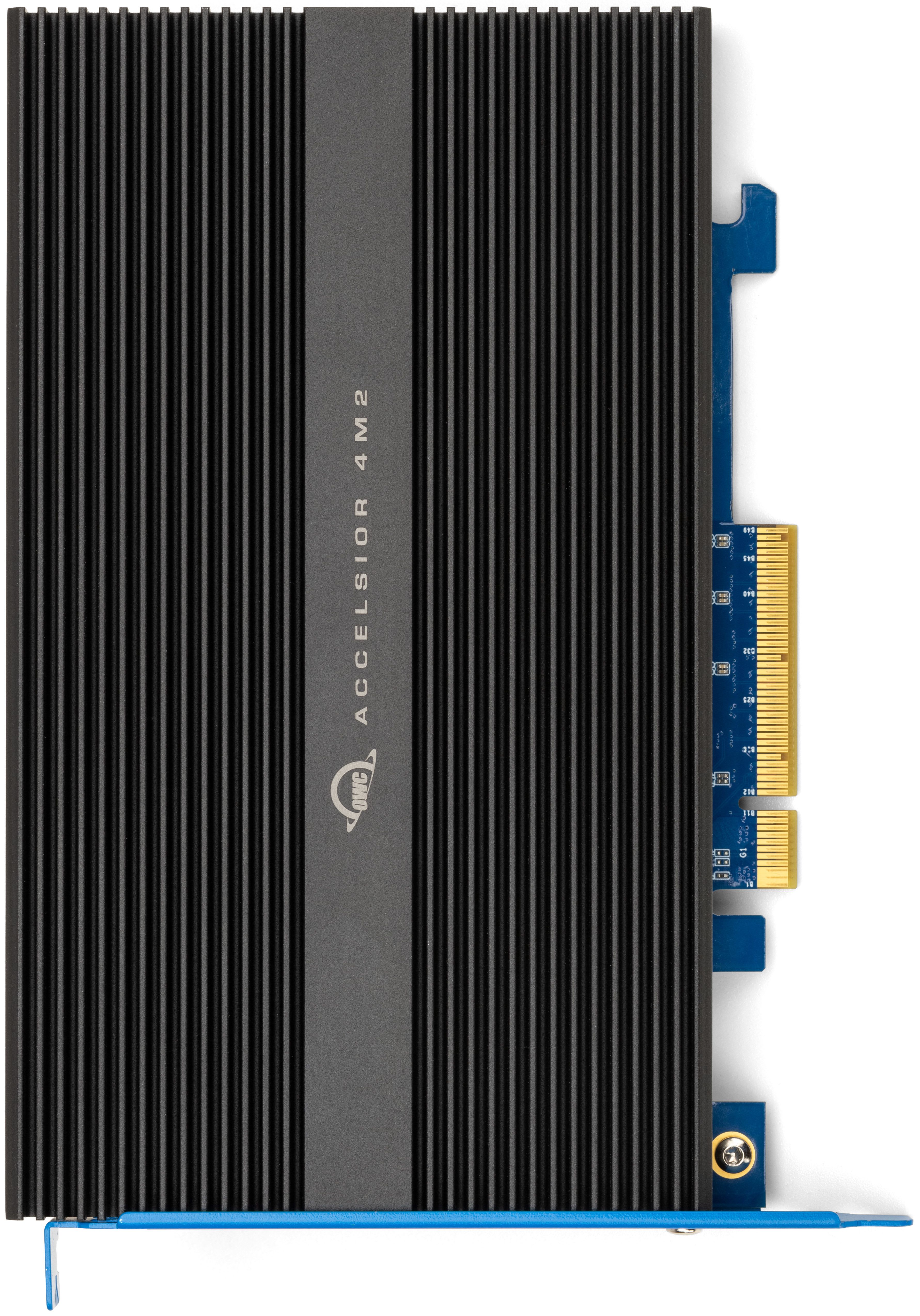 WORK FASTER
over 6,000MB/s real world speed in RAID 01

SUPERCHARGES MAC AND PC
ideal for Mac Pro (2019 - Current), Mac Pro (2010 - 2012), and PC towers

HIGHLY VERSATILE
installs into a full-height, half-length x8 or x16 PCIe 3.0 or 2.0 slot2
SLOT-POWERED
no extra power cables needed
SILENT COOLING
finned heat sink cover for fanless operation
DEPLOYMENT READY
pre-configured solutions undergo performance verification
BOOTABLE
start working in seconds4
WORRY-FREE
up to 5 Year OWC Limited Warranty5
The Performance Advantage of NVMe
Non-Volatile Memory Express (NVMe) is a communication standard specifically built to optimize the performance of modern flash technology. It enables significantly faster SSD performance vs an SSD using the SATA interface, a communication protocol that was originally designed for hard disk drives. With NVMe SSDs powering its heartbeat, Accelsior 4M2 delivers extreme data rates that will change the way you work or play.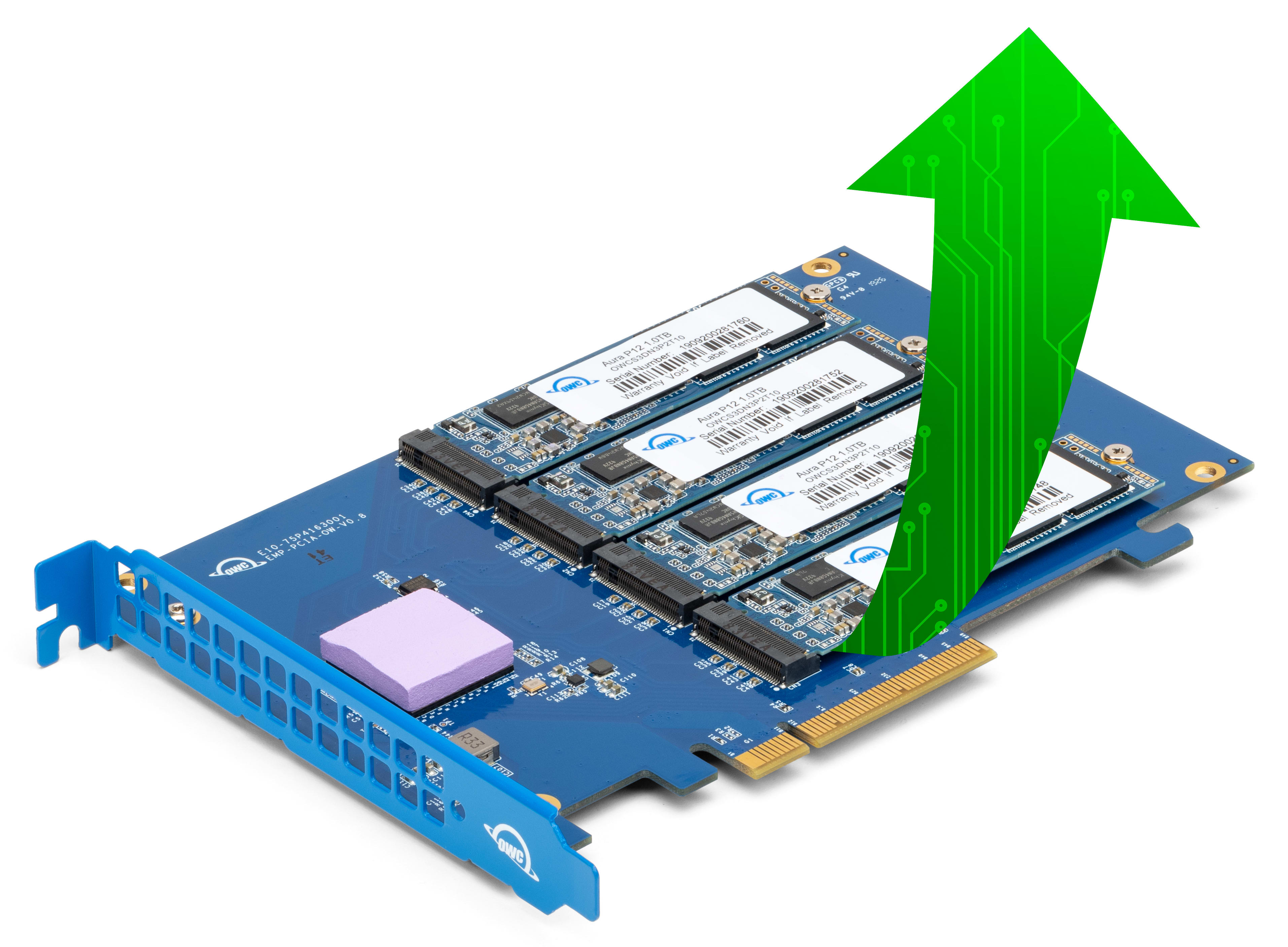 More Lanes = Faster Throughput
Accelsior 4M2 was designed with a PCIe switch to let your computer address each of the M.2 NVMe drives at full x4 PCIe speeds instead of hard-limiting each drive to x2 PCIe speeds. When running in JBOD, where all four drives are typically not accessed at the same time, each drive has the unlocked capability to run at full speed.

2 to the Second Power
When over 6,000MB/s real world speed and 32TB of capacity isn't enough to satisfy your needs, you can RAID two Accelsior 4M2 cards together to experience out-of-this-world performance.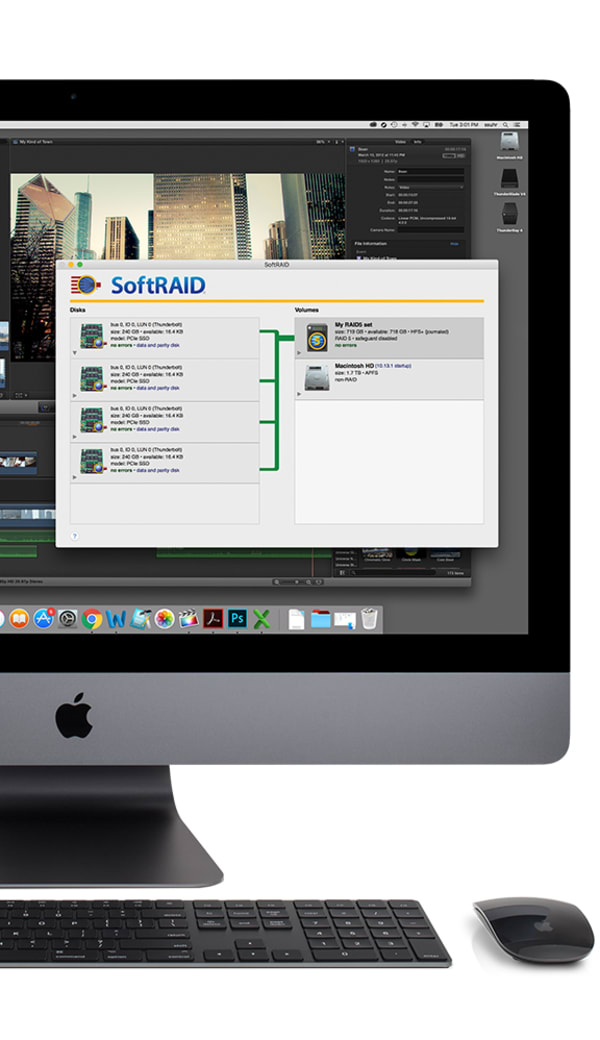 RAID Made Easy
Harness the full capability of your OWC drive array with the included SoftRAID XT, the most powerful, intuitive RAID management software on the market for macOS and Windows. SoftRAID's RAID creation and management technology has been finely tuned to perfection with over 20 years of development to provide rock solid protection of your data and optimize drive performance.
Packed with Features
SoftRAID XT provides an unbeatable combination of speed, protection, and compatibility:
Advanced: Create RAID 0/1/4/5/1+0 (10) arrays1
Protected: SoftRAID Monitor constantly watches your disks and alerts you if problems are detected
Validated: Volume validation ensures sectors can be read and parity is correct
Certified: Checks disks before use to ensure they are safe for data storage
Vigilant: Error prediction helps protect against unexpected failure
Universal: Move SoftRAID arrays seamlessly between Mac and PC2 with built-in OWC MacDrive technology
Beyond Hardware RAID
SoftRAID provides a level of storage performance that you simply can't get with hardware RAID. Software RAID gives you increased power and control over your RAID drives and disks that hardware RAID can't deliver and doesn't lock you into technology that you can't upgrade or expand.

Dive deeper into the benefits of SoftRAID »
RAID 4/1+0 (10) is available for Mac only at this time.
SoftRAID serial numbers work on both Mac and Windows. SoftRAID is licensed per computer. In order to use SoftRAID on multiple computers, you will need a unique, valid license per computer. Additional licenses can be purchased anytime.

OWC Aura Ultra III
The perfect match for Accelsior 4M2.
Combine Accelsior 4M2 with its perfect performance match – fast OWC Aura Ultra III NVMe M.2 SSDs. Build your own ultra-fast RAID ready PCIe internal storage solution, and enjoy incredible transfer speeds, capacity, and OWC reliability!
More PCIe Storage Solutions from OWC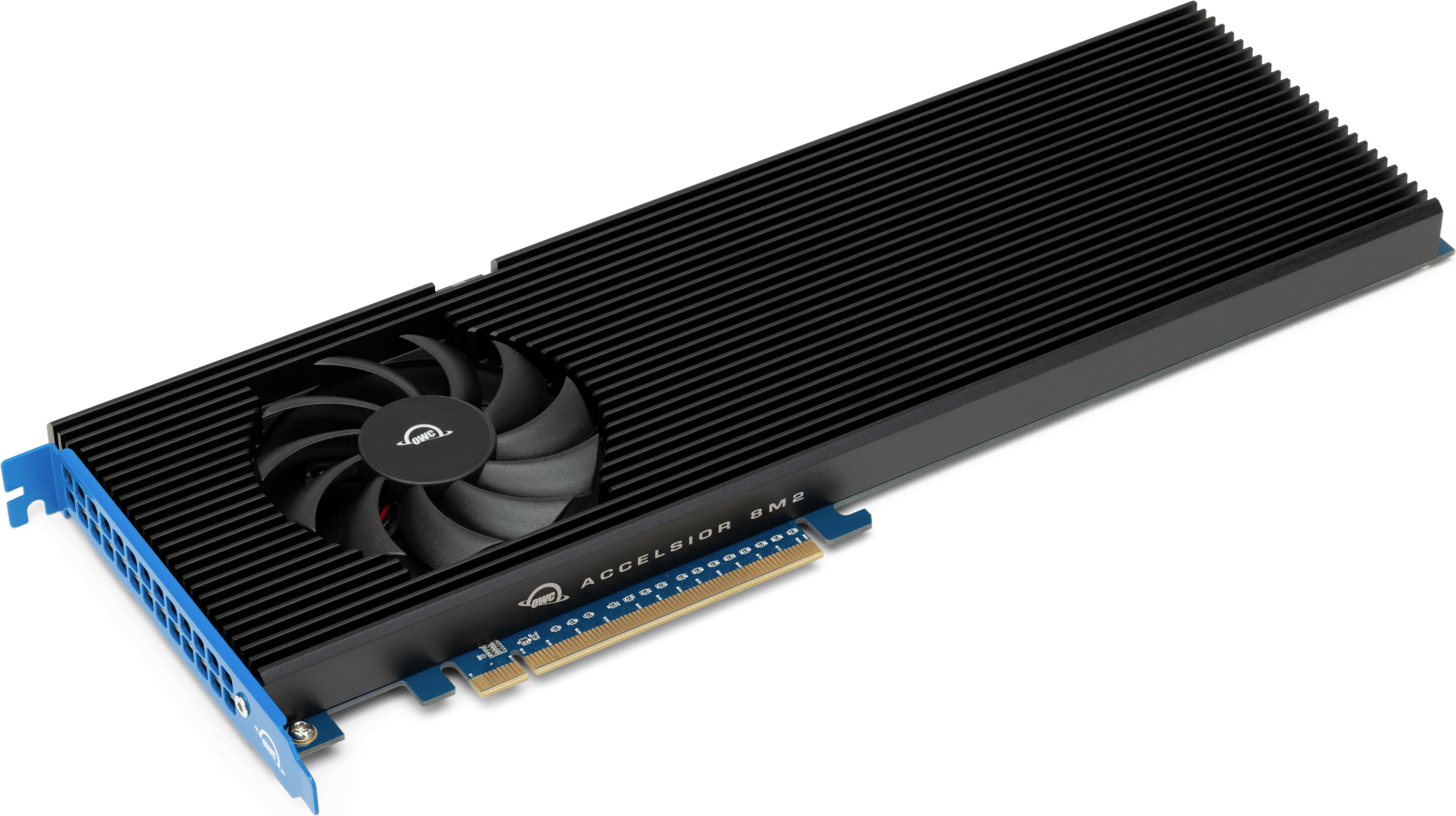 OWC Accelsior 8M2
OWC Beyond Fast™ – The fastest, highest capacity PCIe SSD in the galaxy.
This ultra high-performance 8-drive PCIe NVMe M.2 SSD solution provides mind-blowing performance – up to 12,000MB/s in Mac Pro and PCIe Gen 3 PCs, and over 26,000MB/s with PCIe Gen 4-capable computers!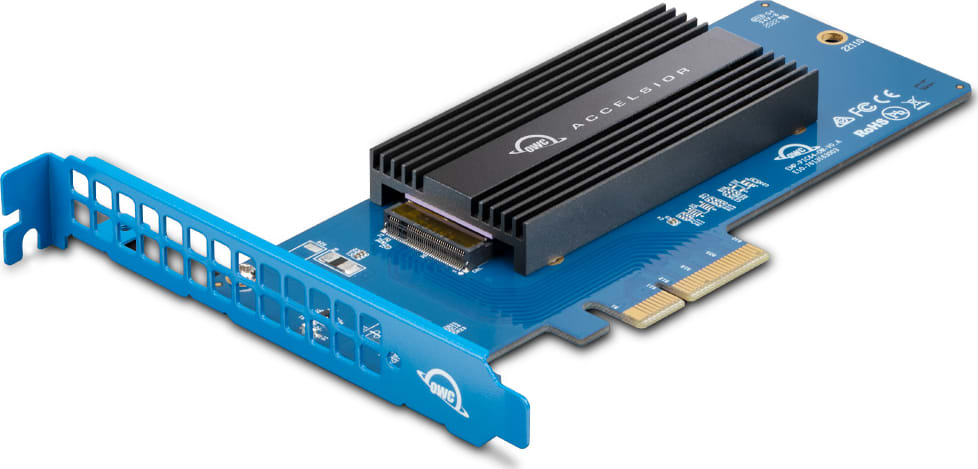 OWC Accelsior 1M2
High-Performance PCIe NVMe SSD Solution
The speed boosting, capacity expanding M.2 SSD to PCIe adapter card for performance upgraders, system builders, and server admins.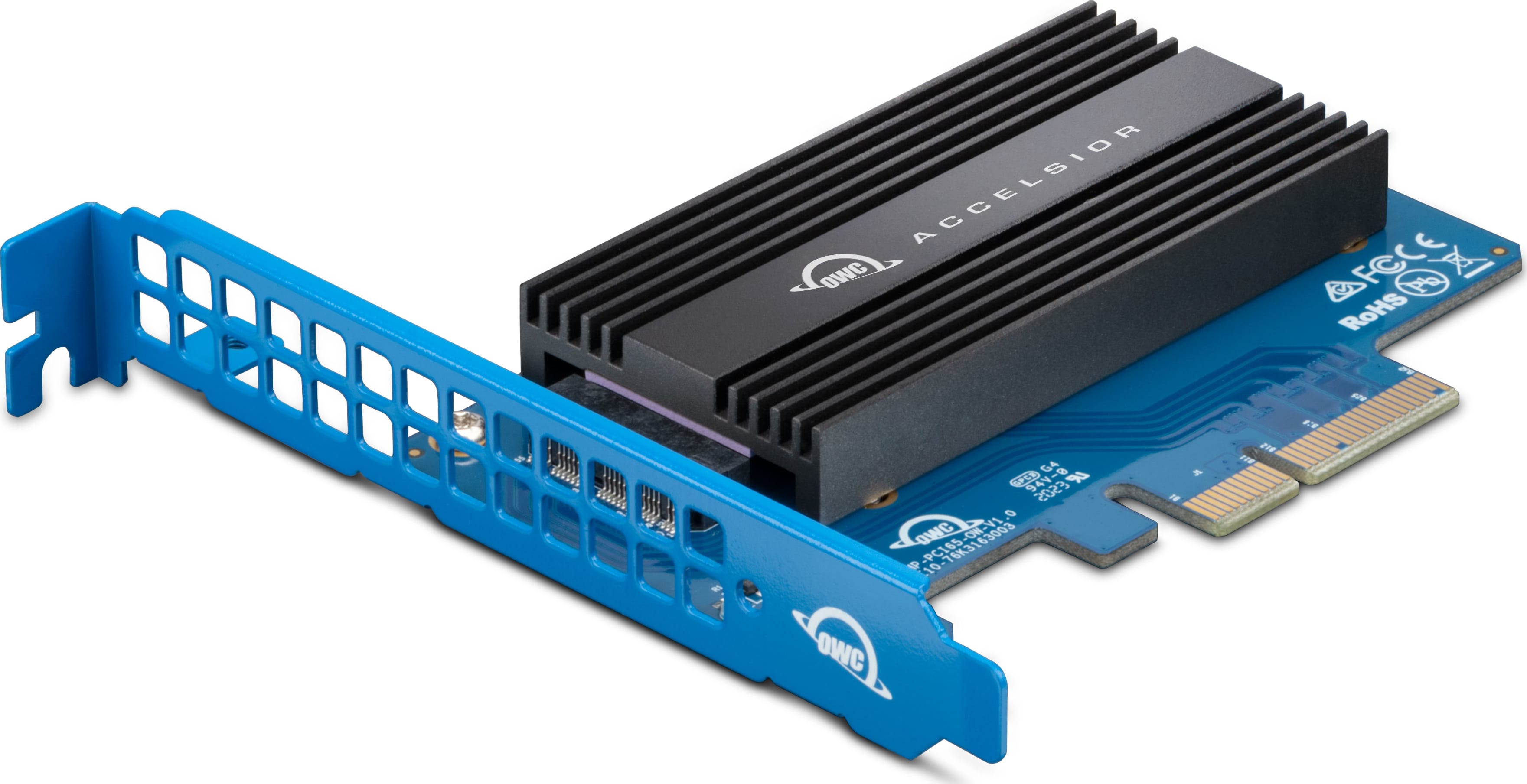 OWC Accelsior 1A
PCIe Adapter Card for Apple and OWC Aura SSDs
Repurposes an Apple factory flash drive from most 2013 to 2019 Mac models into a high-performance PCIe SSD.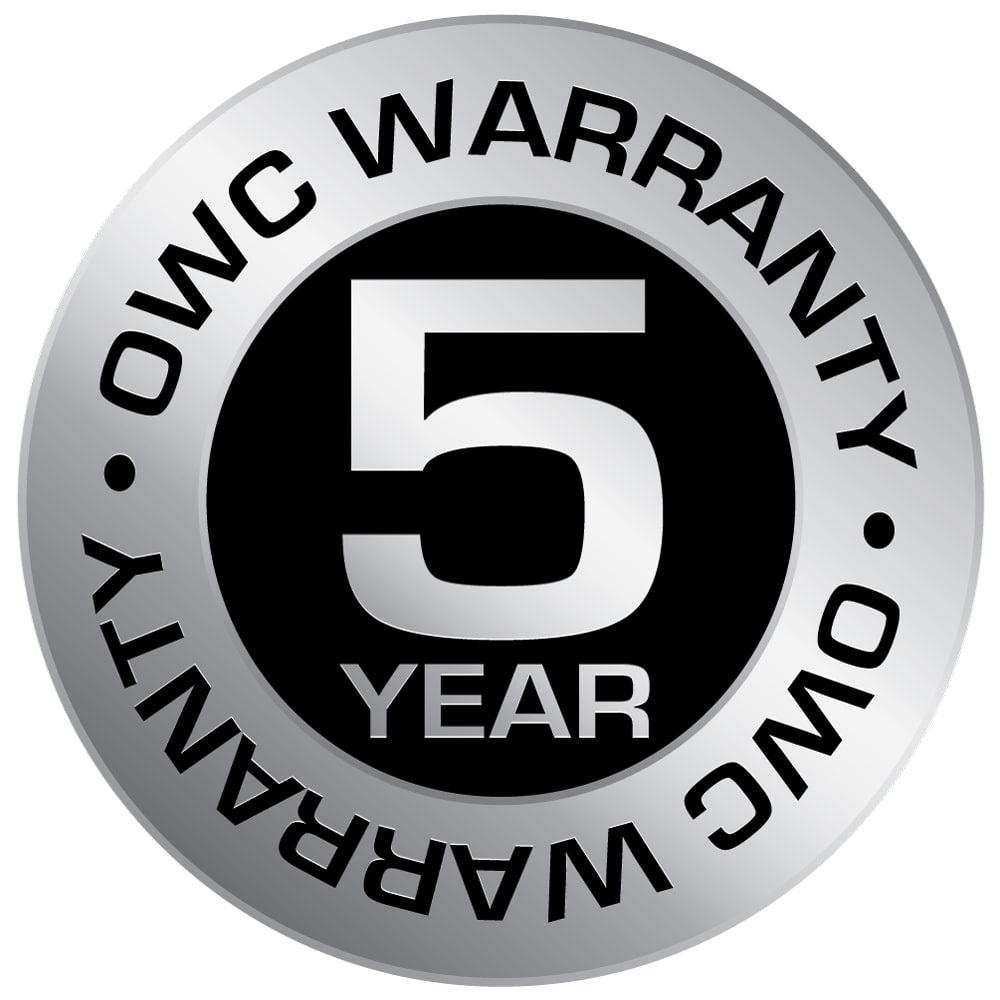 OWC, Trusted by Pros & Enthusiasts the World Over
We build our hardware to the highest standards of reliability and performance. Because 100% reliability is always the goal, we rigorously quality test and back our hardware with a 5 Year OWC Limited Warranty and award-winning customer support.
Learn More
Data transfer rates will vary based on SSDs used, CPU speed, RAID setting, and PCIe version.
Backward compatible with PCIe 2.0 slots at reduced speeds.
Performance in a Thunderbolt 3 PCIe expansion chassis limited by maximum Thunderbolt 3 PCIe bandwidth of 2,800MB/s.
Bootable using a single, independent M.2 startup disk, with the other three M.2 SSDs configured as independent volumes or as a software RAID (SoftRAID or Apple RAID). macOS 10.14.6 required on Mac Pro (2010 - 2012). macOS 10.15.1 or later required on Mac Pro (2019 - Current).

5 Year OWC Limited Warranty for 1.0TB and higher capacity PCIe SSD solutions. 3 Year OWC Limited Warranty for PCIe Expansion Card only.