OWC Accelsior 4M2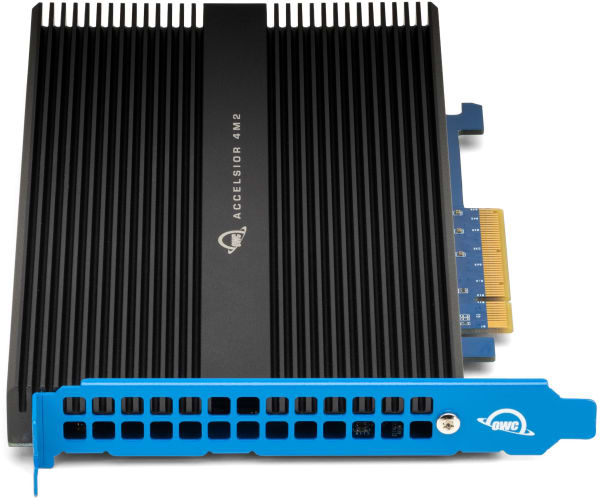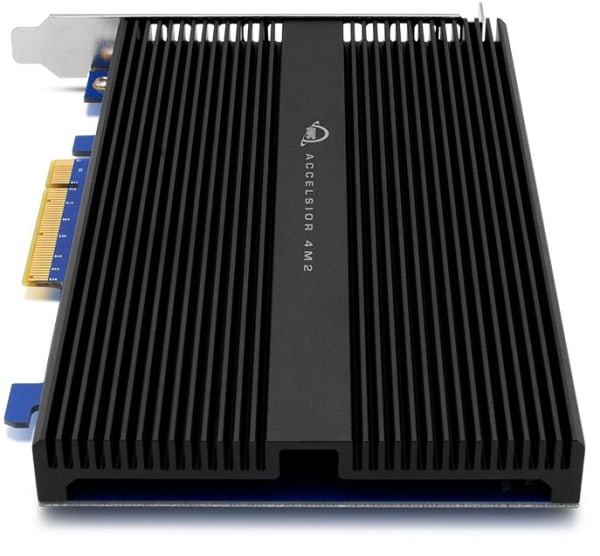 OWC Accelsior 4M2
---
Over

6000

MB/s
Blistering fast speeds
Up to

16

TB
Room for large format files
Quick Specs:
Includes SoftRAID
Plug and play
PCIe 3.0 x8
(4) M.2 NVMe SSDs
Mac & PC
High-Performance PCIe M.2 NVMe SSD Solution
Work Faster: over 6,000MB/s real world speed in RAID 01
Supercharges Mac and PC: ideal for Mac Pro 2019, Mac Pro 2012 or 2010, and PC towers
Highly Versatile: installs into a full-height, half-length x8 or x16 PCIe 3.0 or 2.0 slot2
Slot-Powered: no extra power cables needed
---
30-day 100% Money-Back Guarantee!

Easy DIY install videos

Free shipping on all OWC SSDs

You have questions? We have answers!
PCIe SSD Solutions
With SoftRAID XT — RAID 0, 1, 4, 5 and 1+0 (10), JBOD
PCIe Expansion Card Only
With SoftRAID XT — Add your own M.2 SSDs.

The Fastest SSD We've Ever Built
Accelsior 4M2 NVMe SSD is OWC's fastest SSD ever with over 6,000MB/s speed for large format video editing, VR/AR/MR environments, extreme gaming, and other high bandwidth needs. Available in capacities up to 16TB, Accelsior 4M2 is the ultimate performance drive for Mac Pro 2019, Mac Pro 2012 and 2010, and PC towers.
It offers silent cooling via a finned heat sink cover and installation versatility with a half-length x8/x16 design. If a Mac/PC doesn't have an open or compatible PCIe slot but is Thunderbolt 3-equipped, Accelsior 4M2 can be used externally in the OWC Mercury Helios 3S.3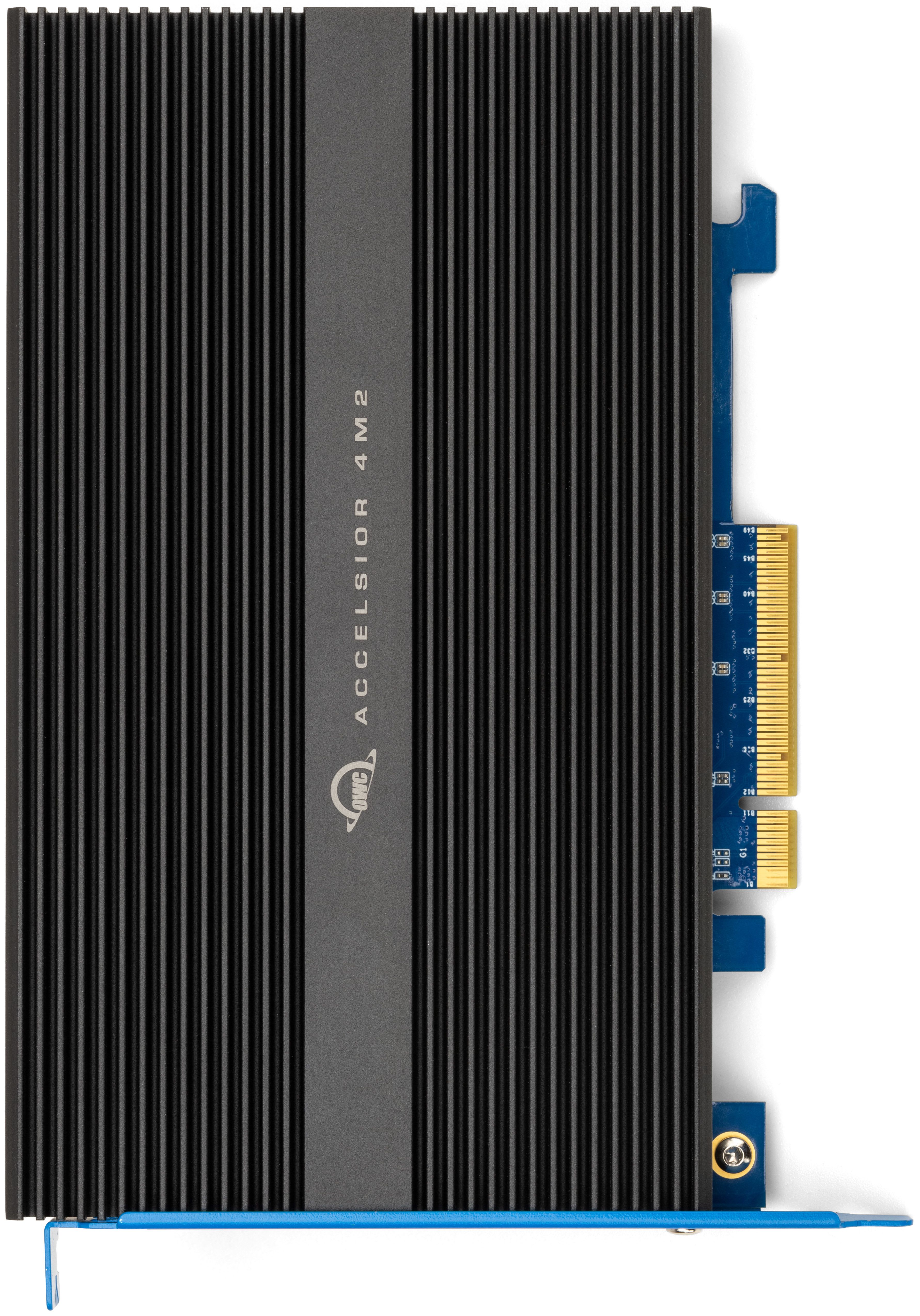 WORK FASTER
over 6,000MB/s real world speed in RAID 01

SUPERCHARGES MAC AND PC
ideal for Mac Pro 2019, Mac Pro 2012 or 2010, and PC towers

HIGHLY VERSATILE
installs into a full-height, half-length x8 or x16 PCIe 3.0 or 2.0 slot2
SLOT-POWERED
no extra power cables needed
SILENT COOLING
finned heat sink cover for fanless operation
DEPLOYMENT READY
pre-configured solutions undergo performance verification
BOOTABLE
start working in seconds4
WORRY-FREE
up to 5 Year OWC Limited Warranty5
The Performance Advantage of NVMe
Non-Volatile Memory Express (NVMe) is a communication standard specifically built to optimize the performance of modern flash technology. It enables significantly faster SSD performance vs an SSD using the SATA interface, a communication protocol that was originally designed for hard disk drives. With NVMe SSDs powering its heartbeat, Accelsior 4M2 offers the fastest data rates ever delivered by an OWC SSD.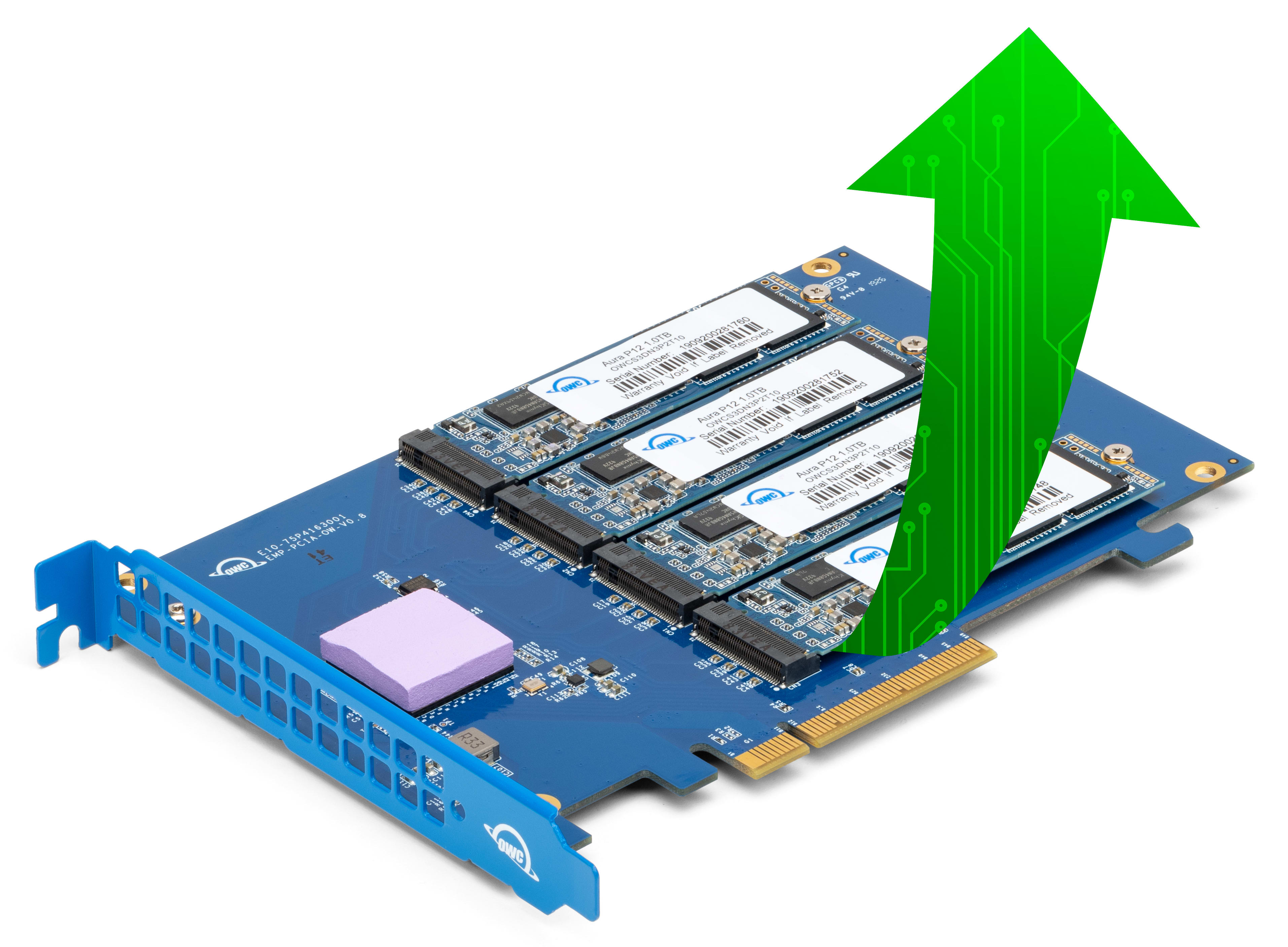 More Lanes = Faster Throughput
Accelsior 4M2 was designed with a PCIe switch to let your computer address each of the M.2 NVMe drives at full x4 PCIe speeds instead of hard-limiting each drive to x2 PCIe speeds. When running in JBOD, where all four drives are typically not accessed at the same time, each drive has the unlocked capability to run at full speed.

2 to the Second Power
When over 6,000MB/s real world speed and 16TB of capacity isn't enough to satisfy your needs, you can RAID two Accelsior 4M2 cards together to experience out-of-this-world performance.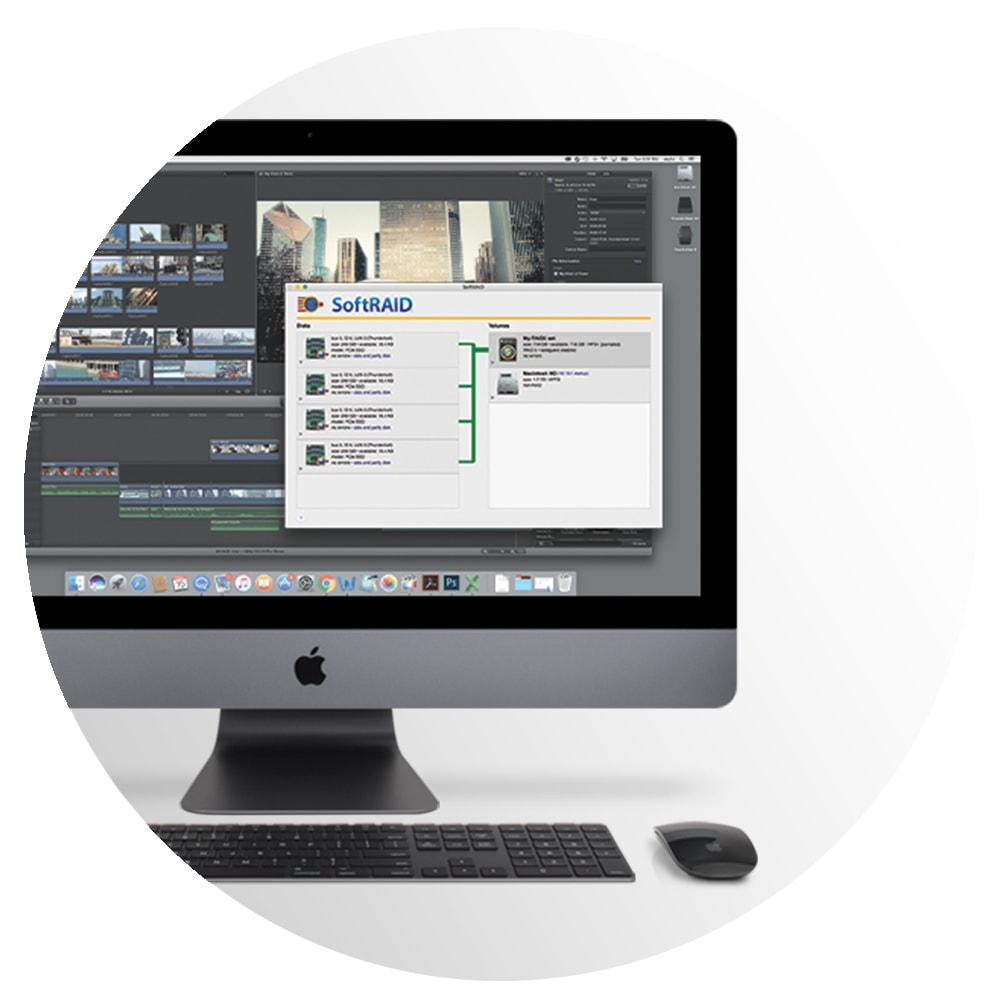 Includes SoftRAID: Easy and Complete Drive Management
Accelsior 4M2 includes SoftRAID software to help you manage your data like a pro. Use it to maximize drive space, get the fastest access speeds, and protect against drive failure with plug-and-play simplicity. SoftRAID's easy setup makes it a breeze to create RAID volumes by helping you through the entire process. Just decide what you're using your RAID volume for and how much space to allocate to it. It's that simple to create your preference of speed and/or redundancy attributes of your data volume.

Up to 86% faster vs AppleRAID
Create advanced RAID 0, 1, 4, 5, 1+0 (10) volumes for higher performance, greater data reliability, and/or redundancy
Enterprise-class monitoring for disk and RAID volume health with email notifications
Volume validation to ensure sectors can be read, parity is correct, and minimization of volume failure
Disk certification checks that your disks are safe to store data on before use
Disk failure prediction with early warning helps protect you from sudden disk failure

OWC Aura P12 Pro
The perfect match for Accelsior 4M2.
Combine Accelsior 4M2 with its perfect performance match – fast OWC Aura P12 Pro NVMe M.2 SSDs. Build your own ultra-fast RAID ready PCIe internal storage solution, and enjoy incredible transfer speeds, capacity, and OWC reliability!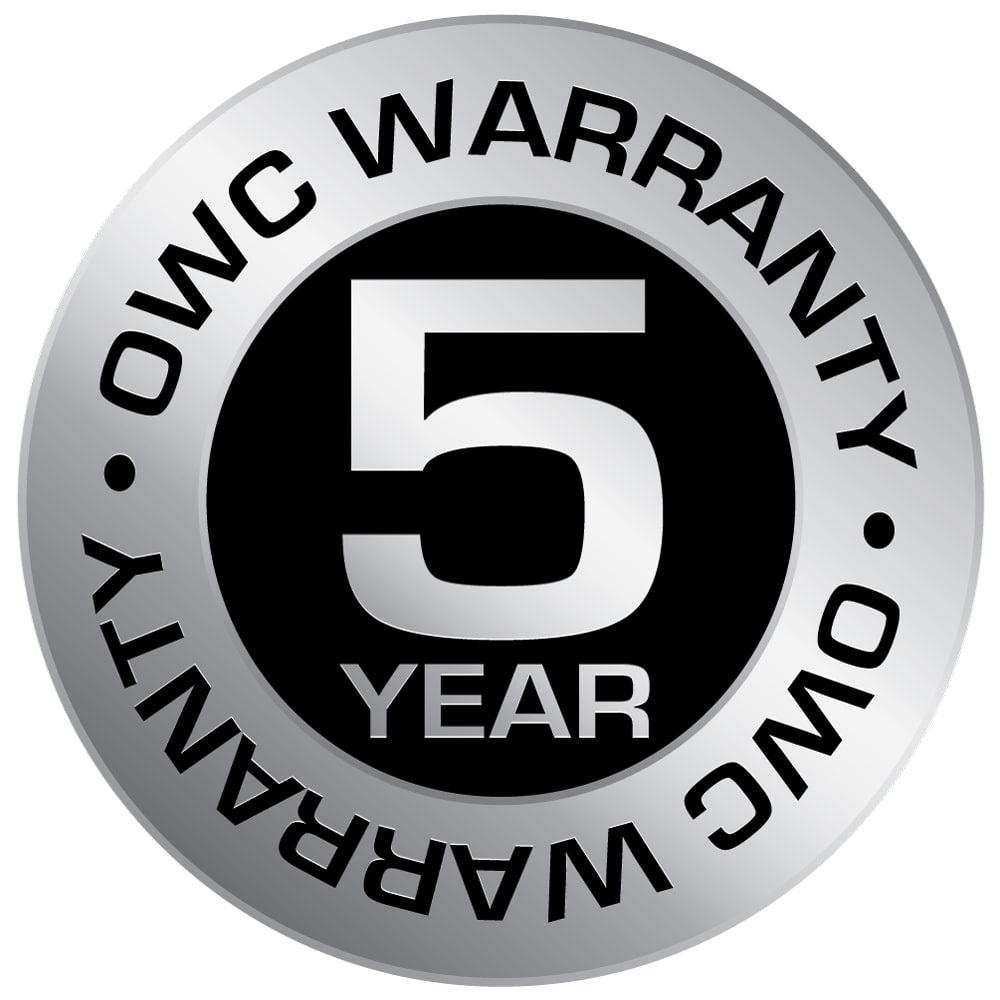 OWC, Trusted by Pros & Enthusiasts the World Over
We build our hardware to the highest standards of reliability and performance. Because 100% reliability is always the goal, we rigorously quality test and back our hardware with a 5 Year OWC Limited Warranty and award-winning customer support.
Learn More
Data transfer rates will vary based on SSDs used, CPU speed, RAID setting, and PCIe version.
Backward compatible with PCIe 2.0 slots at reduced speeds.
Performance in a Thunderbolt 3 PCIe expansion chassis limited by maximum Thunderbolt 3 PCIe bandwidth of 2,800MB/s.
Bootable using a single, independent M.2 startup disk, with the other three M.2 SSDs configured as independent volumes or as a software RAID (SoftRAID or Apple RAID). macOS 10.14.6 required on Mac Pro (2010-2012). macOS 10.15.1 or later required on Mac Pro (2019).

5 Year OWC Limited Warranty for 1.0TB and higher capacity PCIe SSD solutions. 3 Year OWC Limited Warranty for PCIe Expansion Card only.