Calendar
Calendar's interface has been condensed a little but otherwise looks the same as it did in OS X Mavericks.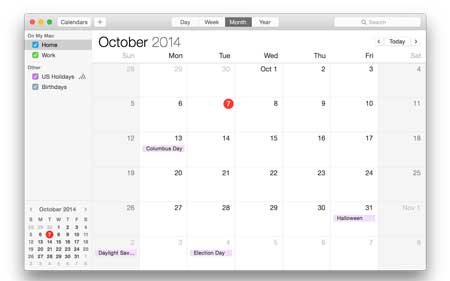 Enlarge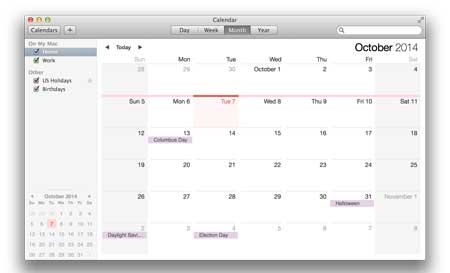 Enlarge
The rest of the main window should be familiar. There is a "Calendars" button in the top-left corner of the window that will show/hide all of your calendars. Just to the right of this is a "+" button that brings up a "Create Quick Event" pop window. The standard Day, Week, Month, Year view buttons are still in the middle of the window bar. The top-right corner still has a Search field.
The main area where Calendar sees improvement is the during event creation. Click on the "Create Quick Event" and as you start typing you will see a drop-down list with related events already in your calendar. Typing "babysitter" or "doctor appointment", for example, would bring up a previous entry with the time and location. If you select a previous entry from the list, a new event will be added with all of the same information from the previous event with the exception of the date changing to the current day.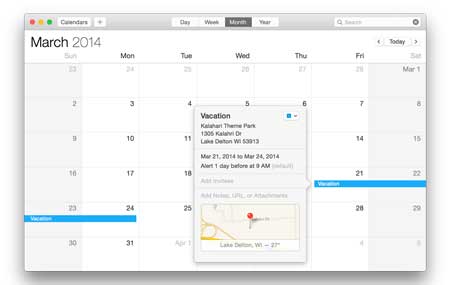 Enlarge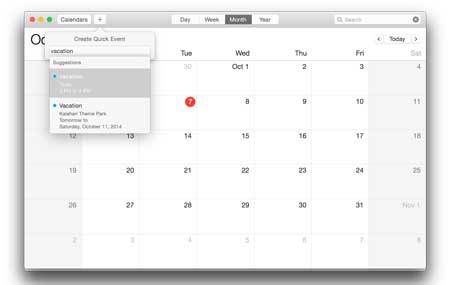 Enlarge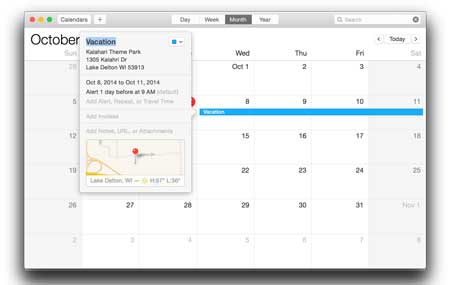 Enlarge
The information contained on the OWC OS Update Guide page is provided as a resource and does not include any implicit or implied guarantee. Usage environments are all slightly different and results may vary from what has been reported. Every effort is made to provide the most accurate information possible, however it is upon your sole judgment as to whether the information and content is applicable to your situation.
By use of this page, you agree to indemnify and hold Other World Computing, Inc., its parent operating company, New Concepts Development Corporation, and its officers, directors, shareholders, predecessors, successors in interest, employees, agents, subsidiaries and affiliates, harmless from any demands, loss, liability, claims or expenses (including attorneys' fees), made against OWC by any third party due to or arising out of or in connection with your use of the Site.

YOU FURTHER AGREE THAT THE SITE AND ITS CONTENT, INCLUDING, BUT NOT LIMITED TO THE OWC OS UPDATE GUIDE PAGE, ARE DELIVERED ON AN "AS-IS" AND "AS-AVAILABLE" BASIS. ALL INFORMATION PROVIDED ON THE SITE IS SUBJECT TO CHANGE WITHOUT NOTICE. OWC DISCLAIMS ALL WARRANTIES, EXPRESS OR IMPLIED, INCLUDING ANY WARRANTIES OF ACCURACY, NON-INFRINGEMENT, MERCHANTABILITY AND FITNESS FOR A PARTICULAR PURPOSE. OWC DISCLAIMS ANY AND ALL LIABILITY FOR THE ACTS, OMISSIONS AND CONDUCT OF ANY THIRD PARTIES IN CONNECTION WITH OR RELATED TO YOUR USE OF THE SITE AND/OR ANY OWC SERVICES. YOU ASSUME TOTAL RESPONSIBILITY FOR YOUR USE OF THE SITE AND ANY LINKED SITES. YOUR SOLE REMEDY AGAINST OWC FOR DISSATISFACTION WITH THE SITE OR ANY CONTENT IS TO STOP USING THE SITE OR ANY SUCH CONTENT.

For the full Site Terms, please visit: http://eshop.macsales.com/service/terms