Notification Center
Notification Center was first seen in Mountain Lion as a central hub for notifications from applications, services, emails and messages.
The very top of Notification Center offers two buttons, one for "Today" and one for "Notifications"
The Today view is the default view when Notification Center is opened. This shows the current and next day of reminders, appointments, stock market, weather.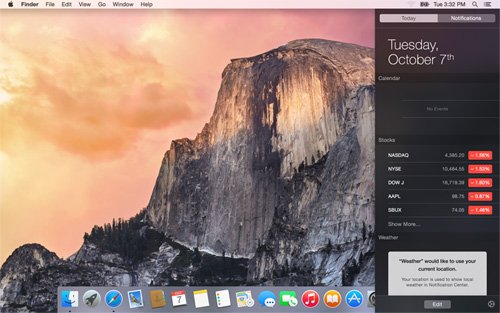 Enlarge
The order of the information can be rearranged and customized by activating the Notification Center selecting the "Edit" button at the bottom of the screen. You can turn off items by either closing the red circle or by clicking and dragging them from the Today pane to the Items pane. You enable them by clicking the green circle or clicking and dragging them from the Items pane to the Today pane. You can also customize them, by adding a zip code to Weather, for example. Additional extensions can be found by selecting the "App Store" button at the bottom of the window. Select "Done" at the bottom of the window to save the changes.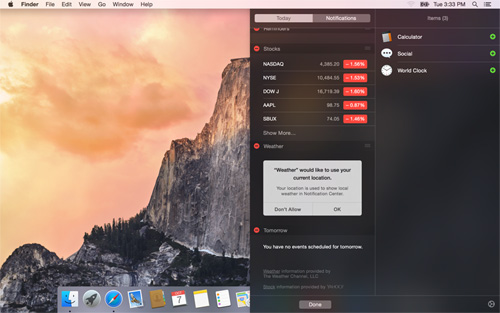 Enlarge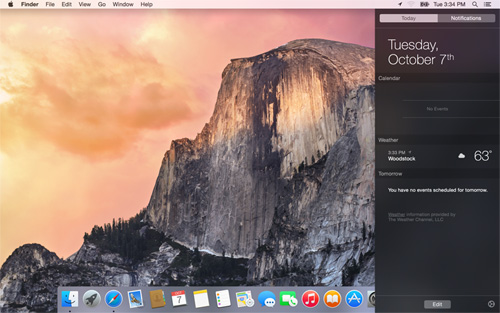 Enlarge
Notifications view is relatively unchanged from previous versions of OS X. This is where the most recent messages, emails, social media updates, as well as notifications from applications are seen.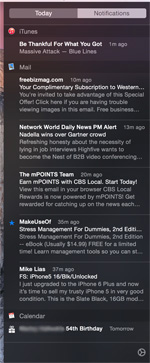 Enlarge
Apple provides Calendar, Weather, Stocks, World Clock, Calculator, Reminders. Third party widgets are available through Mac App Store. Most of this was hidden away in Dashboard in previous versions of OS X. Dashboard still exists in Yosemite, but may be on the way out as Notification Center takes on more responsibilities.
Notification center is now an overlay and does not shift screen to the left as it did in previous OS X versions.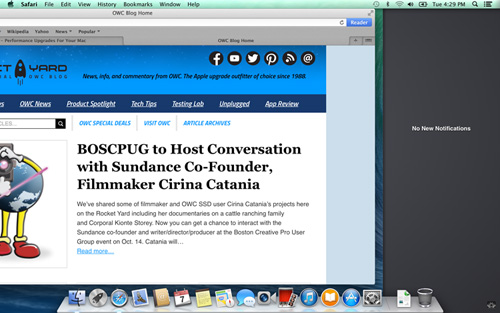 Enlarge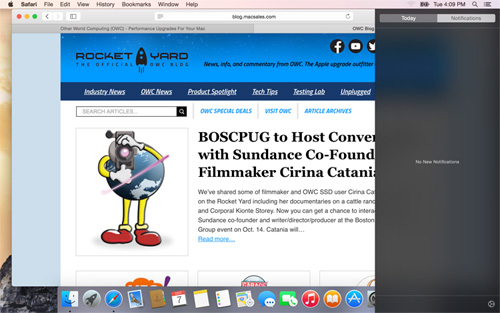 Enlarge
Notification Center can be accessed by clicking the bulleted list icon in the upper right-hand corner of the window or by using a two finger swipe motion from the right edge of the a trackpad towards the middle.

The information contained on the OWC OS Update Guide page is provided as a resource and does not include any implicit or implied guarantee. Usage environments are all slightly different and results may vary from what has been reported. Every effort is made to provide the most accurate information possible, however it is upon your sole judgment as to whether the information and content is applicable to your situation.
By use of this page, you agree to indemnify and hold Other World Computing, Inc., its parent operating company, New Concepts Development Corporation, and its officers, directors, shareholders, predecessors, successors in interest, employees, agents, subsidiaries and affiliates, harmless from any demands, loss, liability, claims or expenses (including attorneys' fees), made against OWC by any third party due to or arising out of or in connection with your use of the Site.

YOU FURTHER AGREE THAT THE SITE AND ITS CONTENT, INCLUDING, BUT NOT LIMITED TO THE OWC OS UPDATE GUIDE PAGE, ARE DELIVERED ON AN "AS-IS" AND "AS-AVAILABLE" BASIS. ALL INFORMATION PROVIDED ON THE SITE IS SUBJECT TO CHANGE WITHOUT NOTICE. OWC DISCLAIMS ALL WARRANTIES, EXPRESS OR IMPLIED, INCLUDING ANY WARRANTIES OF ACCURACY, NON-INFRINGEMENT, MERCHANTABILITY AND FITNESS FOR A PARTICULAR PURPOSE. OWC DISCLAIMS ANY AND ALL LIABILITY FOR THE ACTS, OMISSIONS AND CONDUCT OF ANY THIRD PARTIES IN CONNECTION WITH OR RELATED TO YOUR USE OF THE SITE AND/OR ANY OWC SERVICES. YOU ASSUME TOTAL RESPONSIBILITY FOR YOUR USE OF THE SITE AND ANY LINKED SITES. YOUR SOLE REMEDY AGAINST OWC FOR DISSATISFACTION WITH THE SITE OR ANY CONTENT IS TO STOP USING THE SITE OR ANY SUCH CONTENT.

For the full Site Terms, please visit: http://eshop.macsales.com/service/terms