Mail and Messages
Mail has two new features that will increase productivity and reduce the complexity of sending an email.
Markup
This is basically what it sounds like. It is a way to annotate images or PDFs before sending an email. The markup options are adding a straight line, arrow, cartoon bubble, text, freehand drawing and even, signing the document using trackpad. Markup can be accessed by adding a photo or pdf to an email, hovering the mouse cursor over the top right corner of the picture and selecting "Markup" from the drop-down menu.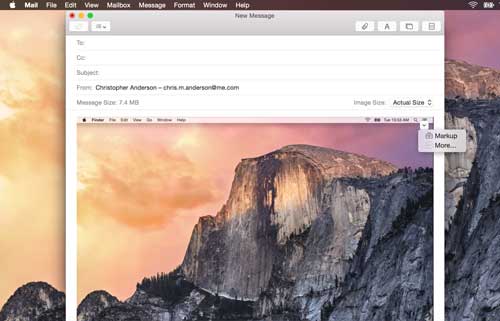 Enlarge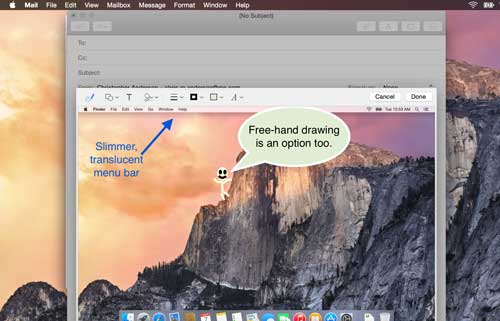 Enlarge
In previous versions of Mail you had to use a different program such as Preview or Skitch to perform the markup actions. Now with Yosemite it can all be done within the Mail program.
Mail Drop
Mail Drop allows you to send large attachments through email by uploading to iCloud (up to 5GB). If the receiving person has Yosemite the attachment will be downloaded normally. If they do not have Yosemite they will get a link that is live for 30 days to download the file. The major benefit here is that different email servers have different limits on the maximum file size they accept. This could lead to an email being bounced back if an attachment is too large. Mail Drop will overcome this potential limitation.
Messages
Messages now has an option called Soundbites. This is a way to record short audio clips and send them to buddies. The theory here is that sometimes it is easier to say what you want instead of typing it out.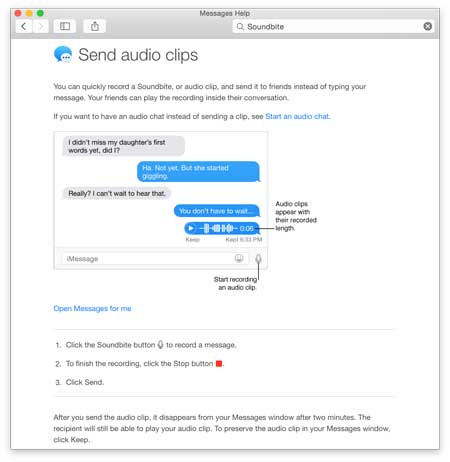 Enlarge
The information contained on the OWC OS Update Guide page is provided as a resource and does not include any implicit or implied guarantee. Usage environments are all slightly different and results may vary from what has been reported. Every effort is made to provide the most accurate information possible, however it is upon your sole judgment as to whether the information and content is applicable to your situation.
By use of this page, you agree to indemnify and hold Other World Computing, Inc., its parent operating company, New Concepts Development Corporation, and its officers, directors, shareholders, predecessors, successors in interest, employees, agents, subsidiaries and affiliates, harmless from any demands, loss, liability, claims or expenses (including attorneys' fees), made against OWC by any third party due to or arising out of or in connection with your use of the Site.

YOU FURTHER AGREE THAT THE SITE AND ITS CONTENT, INCLUDING, BUT NOT LIMITED TO THE OWC OS UPDATE GUIDE PAGE, ARE DELIVERED ON AN "AS-IS" AND "AS-AVAILABLE" BASIS. ALL INFORMATION PROVIDED ON THE SITE IS SUBJECT TO CHANGE WITHOUT NOTICE. OWC DISCLAIMS ALL WARRANTIES, EXPRESS OR IMPLIED, INCLUDING ANY WARRANTIES OF ACCURACY, NON-INFRINGEMENT, MERCHANTABILITY AND FITNESS FOR A PARTICULAR PURPOSE. OWC DISCLAIMS ANY AND ALL LIABILITY FOR THE ACTS, OMISSIONS AND CONDUCT OF ANY THIRD PARTIES IN CONNECTION WITH OR RELATED TO YOUR USE OF THE SITE AND/OR ANY OWC SERVICES. YOU ASSUME TOTAL RESPONSIBILITY FOR YOUR USE OF THE SITE AND ANY LINKED SITES. YOUR SOLE REMEDY AGAINST OWC FOR DISSATISFACTION WITH THE SITE OR ANY CONTENT IS TO STOP USING THE SITE OR ANY SUCH CONTENT.

For the full Site Terms, please visit: http://eshop.macsales.com/service/terms