BENCHMARK PROVEN PERFORMANCE
We compared our 100GB OWC Mercury EXTREME 3G Pro SSD against Industry Leading SSD's from Intel and Crucial. All drives tested in Mac Pro 2.93GHz Quad-Core with 8GB RAM. Faster times are better.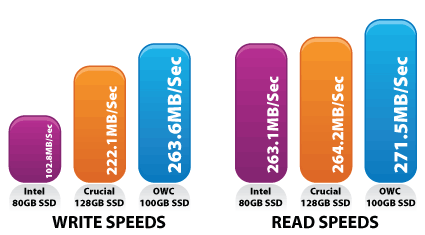 Why OWC SSD?
One of the fastest Internal SATA 2.5" SSD with available data rates up to 285MB/s.
SandForce DuraClass™ technology with Ultra-efficient Block Management & Wear Leveling offers highest endurance, performance, and power efficiency in a SATA SSD.
SandForce® Processor maximizes read and write performance to greatly extend the endurance and overall reliability of the drive.
Up to 100X greater data protection than what the highest rated enterprise class conventional hard disk drive (HDD) provides.
Best in class error correction (ECC) and SandForce RAISE™ (Redundant Array of Independent Silicon Elements) technology provides RAID like data protection and reliability without loss of transfer speed due to parity.
Intelligent "recycling" for advanced free space management
Highly secure… all data automatically stored in AES-128 encrypted format.
Designed and built in the U.S. from domestic and imported parts
Over Provisioning & Wear Management Explained
Some of the drive space in OWC SSDs are allocated for RAISE – which provides real time data redundancy, ECC Error Correction, and reserve cell space.
Example: An OWC Pro SSD that's 240GB in size with 7% over-provisioning is actually a 256GB drive with 7% allocated for data management, and to maintain the drive's high-performance level.
Unlike most SSDs on the market today, the Mercury Pro family uses advanced DuraWrite™ wear-leveling and block management technologies to keep Read/Write performance at peak while others see performance fall.

OWC's SSD vs HDD Shootout!

No Risk, No Hassle 30-Day Money Back Guarantee.
For complete program details and return policies, click here.

Seeing is believing! Watch a side-by-side shootout between an SSD and HDD in a MacBook Pro
loading Adobe's Creative Suite on startup.
Controller:
SandForce Processor with full SF1200 Series 28% Over Provisioning firmware set
Recommended Applications:
Qualified for Single or Multiple Drive use.
SMART attributes:
Bandwidth:
Sustained Sequential Read: up to 285MB/s
Sustained Sequential Write: up to 275MB/s
I/O Per Second (IOPS)**:
Random 4KB: Up to 50,000 IOPS
NAND Flash Components
Tier 1/Grade A Multi-Level Cell (MLC) NAND Flash Memory
Read Latency
Write Latency:
Reliability:
2,000,000 Mean Time To Failure (MTTF)
(based on SandForce processor operation)
Interface:
SATA I (1.5Gb/s) and SATA II (3.0Gb/s) supported, SATA 2.6 Compliant
Native Command Queuing up to 32 commands
SMART Command Transport
TRIM Support:
Advanced TRIM Support in Windows 7
Operating Environment Temperature:
Non-Operating Environment Temperature:
Power Consumption:
Active: 2200mW (2.2W) Typical, up to 2500mW (2.5W)
Inactive (DIPM): 90mW (.09W) Typical
Protection:
ECC Recovery: Up to 24 bytes correctable per 512-byte sector
Unrecoverable Read Errors: Less than 1 sector per 1016 bits read
Security:
Chip Based Data Encryption: 128-bit AES-compliant
RoHS Compliant:
Format:
Form Factor, Weight and Dimensions:
2.5" Industry Standard Hard Drive
80 grams +/- 2 grams
100.12mm x 70.06mm x 9.45mm
Warranty:
Built in the USA:
Designed and built in the U.S. from domestic and imported parts